SAP Course in Noida: Empowering Your Career at Future Labs Technology
Become SAP-Savy at our renowned SAP course training institute
Certification Pass
Guaranteed
Training Format
Live Online /Self-Paced/Classroom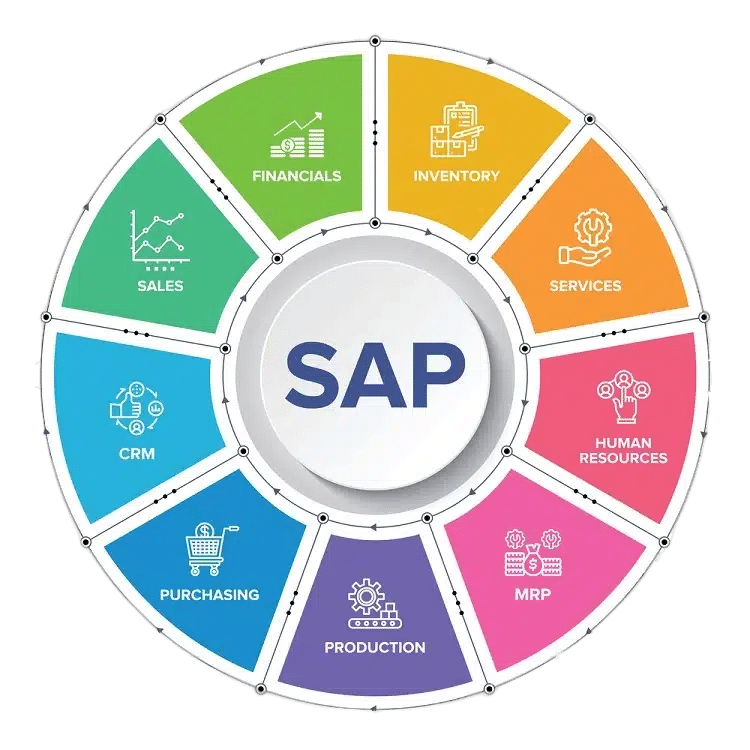 Welcome to Future Labs Technology, your gateway to unique SAP training in Noida! If you are interested in improving your skills and starting a rewarding career in the world of SAP, you have come to the right place. Our SAP course in Noida is designed to empower individuals with the knowledge and experience required to thrive in the dynamic field of enterprise resource planning.
Embark on a transformative journey with our SAP course at Future Labs Technology in Noida. Designed for individuals looking to advance in the competitive world of enterprise resource planning, our SAP training program is designed to equip you with the skills and knowledge necessary for success.
About SAP Course in Noida
1. Comprehensive Module Coverage:
- Gain proficiency in various SAP modules including Finance and Control (FICO), Human Capital Management (HCM), Materials Management (MM), Business Warehouse (BW), Advanced Programming (ABAP), Sales and Distribution (SD) and more.
2. Practical Experience:
- Gain practical skills through hands-on training with the latest SAP systems, ensuring a seamless transition from theory to real-world application.
3. In-depth understanding:
- Develop a deep understanding of SAP applications covering key concepts such as financial accounting, human resource management, supply chain processes, data analytics, and customer relationship management.
4. Problem-Solving Efficiency:
- Enhance your problem-solving abilities by working on real-world SAP scenarios, which prepares you for the challenges of dynamic business
Looking for a fast-track to high-paying jobs in SAP? Look no further than our SAP training courses – designed to give you the skills and expertise needed for success
The curriculum offered in our SAP course in Noida encompasses a diverse array of topics, including SAP FICO, SAP S4 HANA, SAP ABAP, SAP MM, and more. These comprehensive modules will greatly enhance your professional prospects.
SAP Training Upcoming Batches
Mentor-led sessions/micro batches:
A micro batch policy is followed when it comes to our classes which comprise 5-7 students each. This will give an advantage to our candidates as our mentors are able to give special attention to each and every one.
Real-Life Case Studies:
The curriculum you're taught here at Future Labs Technology is both Practical and Theoretical concepts of the course. You learn about the industry from real-life case studies that help you understand the industry and your work more clearly.
Assignment:
Assignments will be given to you in order to assess your knowledge and know how well you've absorbed the material for the course. The tasks that you are given are derived from actual events.
Lifetime Access
Another benefit of the course is that you receive lifetime access to recorded sessions of the classes you take. This means that even when the course is over, you will always have access to these sessions and can review them whenever you like.
24/7 Expert Support
We at Future Labs Technology provide warm 24/7 customer support for your questions regarding the course or classes or any other doubts will be solved instantly.
Certification
After completing your course with us, you will receive certificates. Unlike other certifications, we help you in getting the SAP course certification.
Frequent Asked Questions (FAQ's)
Your future in good hands – Trusted by top companies, our placement partners bring you closer to your dream career.
Experience Excellence: Discover Our Award-Winning Company and Our Expertise Certified by Industry Standards.
Whether you are a fresh graduate, an IT professional looking to upskill or someone looking for a career change, our SAP training in Noida is aimed at everyone. Enroll in Future Labs Technology and take the first step towards becoming a SAP expert.
Don't miss this opportunity to transform your career with the best SAP course in Noida. Contact us today to inquire about our upcoming batches and start your journey into the world of SAP with Future Labs Technology!
Copyright © 2023 Future Labs Technology | Powered By Future Labs Technology